Meet The Owner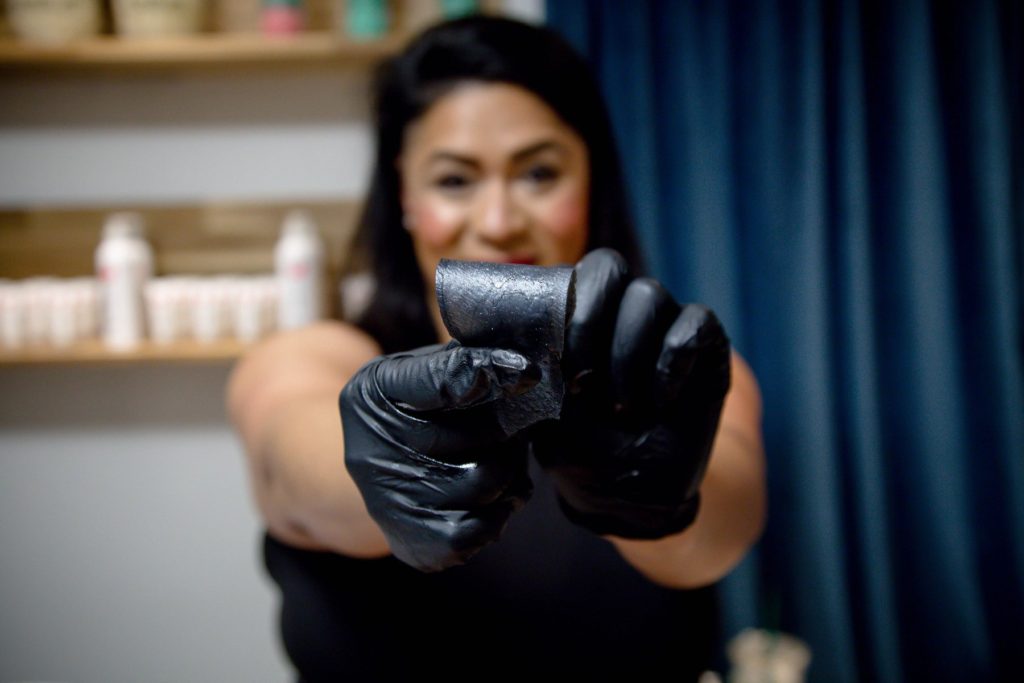 Growing up I was a rough and tumble girl that ran with a guy gang, bikes and all. High school hit and a whole new world of make-up and girly style came into my life. Think the movie Clueless (This was the late 90's after all). While the girls seemed to catch up, the boys didn't. Here I come to save the day! Even my teenage self knew I liked a good make-over. First it started with clothes then moved onto deciphering if Neutrogena, Clean & Clear or Oxy Pads were the way to go for us teenaged pimpled kids. I never thought that I would make a living at making people beautiful and feel good about themselves. This was all fun and games for me.
Fast forward to 2010 and the aftermath of the recession hit. I was wrung out and I put myself out to dry. While I did have a great job in a Fortune 500 company, I knew I wanted more. While I was trying to figure out what I was going to do with the rest of my life, my mind drifted back to what would make me happy even if I wasn't getting paid to do it. I love a good make-over. Always have. At that point the entrepreneurial spirit hit me and I decided to quit my job and go back to school at Paul Mitchell to become a Skin Care Therapist.
I opened my first shop in 2011. As a former tomboy it seemed a natural fit for me to become a skin care therapist for men. Men? Really? Why men? Back in 2011, I saw that men were completely underserved.  Now, it is one of the fastest growing segments of the beauty market. 
I've worked very hard to become Southern California's premier male grooming expert. Not just Orange County? No. I have many regulars making the crazy commutes from North LA to San Diego on the 405 during peak traffic times. Some of my guys have been with me since I first started in the industry. Others don't even live here, but still side trip to see me. Yes, I am that good. I am regularly featured on Dollar Shave Club, podcasts, online interviews and trade magazines. 
On my off time I enjoy working out, going to sporting events and having girl nights with my friends. I work a lot, but I do like to let my hair down to play too. I take the time to take continuing education in multiple subjects directly related to waxing techniques, but also marketing and skin care product knowledge too. I am always evolving.
Whether it's your first time waxing, getting a facial or you are a seasoned pro, you are welcomed with open arms and a smile. My goal is to make you look good and feel amazing. I love a challenge and a good man make-over. From unibrows to toe fur and everything in between, I got you. Tired of looking like a retired baseball mitt? I can help with that too. Stop in, have a beer and let's get down to business.
Wanna see and feel the magic? Book now. 
Cheers!
-Mel
A little more about me from some podcasts and interviews I have done:
"Expert Reveals How To Manscape Like a Movie Star" – VT.co, November 13, 2019
"I Wax Balls – The Skinny On Men's Manscaping" – Ken Arciga's Manceptional Podcast, April 26, 2018
"Male Polish: More Guys Turn To Salons To Manscape And Pamper Themselves" – The Orange County Register, April 25, 2016
and a number of my "greatest hits" for Dollar Shave Club…
"What Does Manscaping Really Mean?  Where Did It Come From?"
"Ranking Body Parts by How Painful They Are To Have Waxed"
"The Complete Guide to Wet Shaving Your… Y'Know"
"Here's How To Do Chest Hair Grooming the Right Way"
"How To Do Every Pre-Date Grooming Ritual the Right Way"
"What's the Best Way to Trim Your Pubes Without Making a Mess?"
"Can I Just Manscape Part of My Body, or Will That Look Weird?"
"Manscape Tips: How To Make Post-Manscape Prickle Go Away"